Take a walk down the aisle and say "I DO!" to a bridal suite spectacle that is equal parts riotous comedy and touching love story.
A bridegroom wakes up in his bridal suite with a hangover on the morning he's about to be married, and turns to the woman in bed beside him . . . and has no recollection of her at all. But he does recall that his fiancée is about to arrive at any moment!
During the ensuing panic to get the stranger dressed and out of the way, the bride arrives, the woman is trapped in the bathroom, and the best man gets pressed into action – at considerable risk to his own happiness. By the time the bride's mother gets in on the act, the chaos reaches hysterical (and hilarious) proportions, making the big day far from a piece of cake!
Running Time: 2 hours including a 20 minute intermission.

Audience Recommendation: Contains mature themes and language. Recommended for ages 13 and up.
Show Calendar
Legend:
Discount Day
Opening
Student Show (Not Sold Online)
Monday
Tuesday
Wednesday
Thursday
Friday
Saturday
Sunday
Reviews
Our table loved it. The chambermaid was super. Diane W, Formosa
A fast-paced, hilarious comedy with never a dull moment. The whole cast was so talented but we really felt that that the person who played the Chambermaid character stole the show. Carole A., Clinton
Hilarious, laughed the entire time. Went out for ladies day and everyones cheeks hurt from laughing. Cannot believe how fast the time went. Maddie R, Cambridge
Loved Loved Loved this play!!!! Non-stop laughter all the way! Well done, Drayton! Vicky G, Waterloo
So funny! I haven't laughed that much in years...perfectly cast! Suzanne C, London
I loved this performance. Not only was this a superb comedy, but the characters were realistic. The actors did an amazing job in keeping the audience interested. A fantastic job, well done. Paulette G, Listowel
Excellent performing by all! Loved the chambermaid! Shawn J, Kitchener
GREAT CAST AND LOTS OF LAUGHS! David B, Kitchener
The director and casting director should have been called to the stage for strong accolades. So supremely was this show cast and directed it seemed the whole event was real. Oscar for the Chambermaid. Every detail was perfect. A fantastic cast and we assume crew to keep it so fresh. Fab entertainment and enjoyment. Robert M, Markham
Great show! Fantastic acting by the "real" chamber-maid! Marilyn D, New Hamburg
Funny and very entertaining. Great show for laughing, and actors did a good job. Susan H, Kitchener
Awesome show...great cast...lots of fun. Richard E, Kitchener
Excellent Performance! Gary S, Sarnia
What a wonderful performance last night by very gifted actors Justin Bott, Tyler Check, Gabi Epstein, Rebecca Gibian, Mary Harvey, Emma Rudy!!! The fast paced comedy played between 2 rooms where actors had to move quickly back and forth was amazing and elicited constant laughter from us, the enthusiastic audience. All characters were well defined and so well portrayed that there was not a boring moment! I fully understand why there are almost no seats left through August as word of mouth spreads about the outstanding quality of the acting cast. No doubt the creative team with Wade Lynch as director has made an essential contribution to making this performance unique. Louise B, Waterloo
The Perfect Wedding was fast-paced comedy that was almost slapstick at times. The plot was interesting and witty. The actors timing was impeccable. The actors really matched their roles. A wonderful show! The small venue made you feel a part of the show. Karen B, Cambridge
It was hilarious!! Gt S, Milton
Great performance by all actors. Fast paced, timing right on, hilarious content. Highly recommend to see! Janice B, Port Rowan
Loved the show and thought the actors were amazing. They all worked together as a great team. I certainly recommend the show for people to enjoy! Robert B, Waterloo
Quaint venue but well set up. And the show was fantastic. I was so into the show I couldn't believe an hour passed and it was intermission time!!! Tanya M, Londesborough
This show had me laughing from the moment it started all the way to the end. I would definitely suggest this show for a night out. Great job everyone. Mike K, Kitchener
We saw this play in the beautiful town of St-Jacobs. This play was so well performed by amazing actors and I laughed so much that it was very therapeutic. It was simply amazing !!!!! Thank you to all the wonderful actors and their hard work. Pauline G, Welland
This play had loads of laughs from start to finish. Great job, and the chambermaid was fabulous! Very enjoyable evening. Lorraine B, Baden
Full of action, energy and humour. The chambermaid was hilarious. Eric B, Hamilton
Everyone did a great job. Lies and deception galore. Laverne F, Cambridge
What a fun filled fast paced show! Loved it! Pat S, Orangeville
Very funny. Good premise to build story on. Was especially impressed with Gabi Epstein (Julie), would come to see another play just to see her perform. She made the show for me. Brian H, Waterloo
Was excellent! Danny & Strickler, Breslau
---
Meet The Artists
---
Rebecca Gibian, Mary Harvey, Justin Bott, Emma Rudy, and Tyler Check in Perfect Wedding, Drayton Entertainment, 2023 Season. Directed by Wade Lynch; Set Design by Jeff JohnstonCollins; Costume Design by Jennifer Wonnacott; Lighting Design by Lyle Fr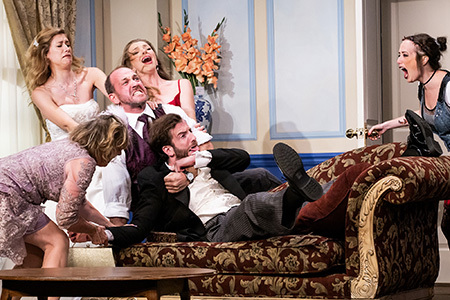 You May Also Like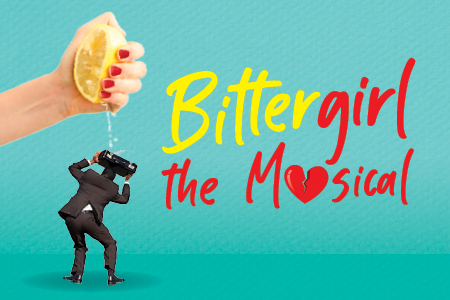 "Perfect Wedding" is presented by arrangement with Concord Theatricals on behalf of Samuel French, Inc. www.concordtheatricals.com.