Back to Listings
Theatre of war: Stephen Massicotte's love of history sets the stage for his classic romantic drama, Mary's Wedding
September 18, 2023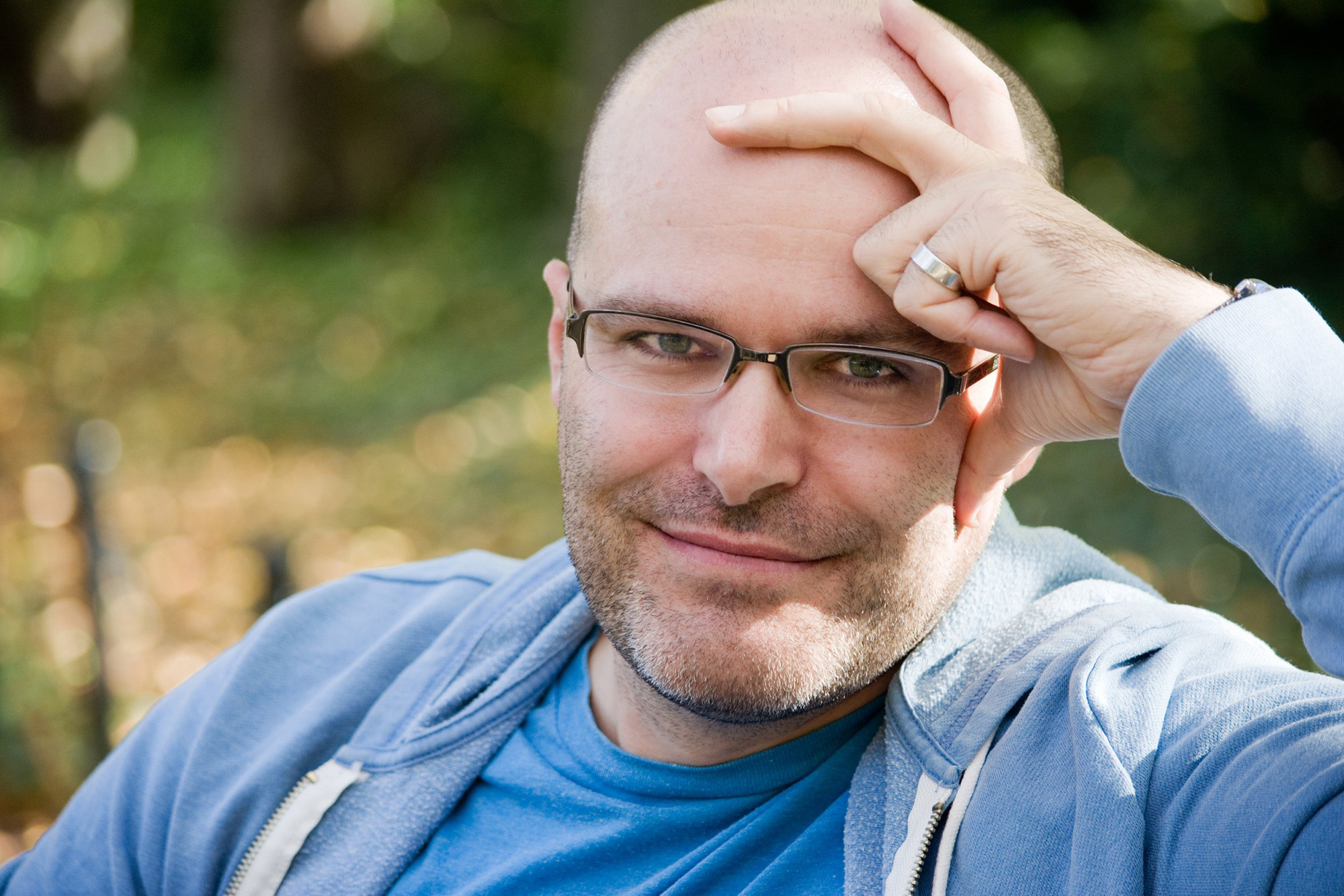 Canadian author and actor Stephen Massicotte, writer of the classic drama, Mary's Wedding.

Given playwright and actor Stephen Massicotte's formative years, it was perhaps inevitable that his interests in military history and the arts would join forces in Mary's Wedding.
His classic romantic wartime drama marches onto the St. Jacobs Country Playhouse's stage from October 26 to November 12.
Born in 1969 in Trenton, Ontario, Massicotte was a "military brat" who grew up on Canadian Forces Bases in Canada and Europe, and his father, grandfathers, and uncles were all in the service. He joined the Royal Canadian Air Cadets in Thunder Bay when he was 13 and, as an adult, he was an instructor at Air Cadet camps for six summers. Massicotte retired from the military as a lieutenant at the age of 23.
Massicotte earned a Diploma in Graphic Design and Advertising from Cambrian College in Sudbury, followed by a Bachelor of Fine Arts in Drama from the University of Calgary. Post-graduation, he remained in Calgary to work as an actor, where he was a founding member of Ground Zero Theatre and The Shakespeare Company.
He enjoyed early writing success in 1997 with The Boy's Own Jedi Handbook, a one-act coming-of-age story based on his own childhood experiences both as a Star Wars fan and as an actor playing Charlie Brown in the school play. The play explores the impact of Star Wars on a pair of young friends for whom "The Force" becomes a a way of life.
One of Massicotte's first full-length works, Mary's Wedding, was the winner of the 2000 Alberta Playwriting Competition and received its world premiere at Alberta Theatre Projects in 2002. It won the Betty Mitchell Award for Outstanding New Play in 2002, and the 2003 Alberta Book Award for Drama. The play quickly went on to become a Canadian theatre favourite which has currently had more than 120 productions at home, as well as the USA, France, Scotland, New Zealand, and Germany.
The play uses a combination of memory and dream as a theatrical device to shift through time and place, whisking the audience back and forth from the bucolic pre-war Canadian countryside and the nightmarish First World War trenches of France.
In the program for the Alberta Theatre Projects premiere, Massicotte revealed the script's origins.
"So this was going to be a war play. However, I was in love when I wrote it and I thought it was more of a love to end all loves. This is not that love story but the more I loved her, the more Mary and Charlie loved each other. The more I longed to return to her, the more they longed to return to each other. So the war play became a love story. I wrote it to forget her and to get her back and to remember her and to let her go."
Poignantly, Massicotte added that the play was also influenced by two stories of women who lost loved ones in the First World War. Their grief was so overwhelming that they never married.
Although he's unsympathetic towards war itself, Massicotte's work honours those who served in the First World War, especially the 66,000 Canadian soldiers who were killed. The poignant Romeo-and-Juliet romance of the main characters, Charlie and Mary, breathes life into the vast historical backdrop.
For the sake of financial expediency, the play was originally intended as a two-hander for Massicotte and a friend to perform on the Canadian fringe festival circuit, which is why the same actor who plays Mary is also cast as Charlie's sergeant and friend - the historical Gordon M. Flowerdew. In the dream it all makes perfect intuitive sense.
This is what theatre is about. A brilliantly written piece reflecting true to heart relationships and what is needed to be done to work through obstacles to reach the one you love.

From the Chicago Stage Standard review of Mary's Wedding
After several professional theatre companies showed an interest in producing the play, Massicotte became a prolific full-time writer. He was in his early-30s and working three jobs while writing Mary's Wedding – in an art movie theatre, a café, and a video store. The latter inspired his black comedy Pervert, which was staged at Calgary's Pumphouse Theatre by Ground Zero Theatre, in 2004, based on his experiences with the customers he served.
Also in 2004, he wroteThe Emperor of Atlantis, which was produced by the Edmonton Opera Company. The play portrayed the writing, composing, and staging of the operetta Der Kaiser Von Atlantis by prisoners in Theresienstadt, a Nazi concentration camp. The operetta's composer, Viktor Ullmann, and librettist, Peter Kien, both perished in the Auschwitz gas chambers in 1944.
After traveling to Oxford to research the life of T.E. Lawrence - the renowned British archaeologist, army officer, diplomat, and writer - Massicotte wrote The Oxford Roof Climber's Rebellion, an anti-war play that was commissioned by the National Arts Centre. It premiered at Ottawa's Great Canadian Theatre Company and at the Tarragon Theatre in Toronto in 2006, and it went on to become an off-Broadway hit in 2007. The play received the Canadian Author's Association Carol Bolt Award and the Gwen Paris Ringwood Award.
Expanding on one of the themes in Mary's Wedding, Massicotte's 2009 mystery play The Clockmaker continued the exploration of memory and what we choose to forget, this time through the eyes of a clockmaker called Heinrich, who is accused of planning a crime. The Clockmaker premiered at the playRites theatre festival in Calgary, and it won the 2009 Betty Mitchell Award for Outstanding New Play, and was named Best Canadian Play of the 2010-11 Theatre Season by the Toronto Theatre Critics Association.
It is a lovely story. At times funny, at times romantic, sometimes dramatic, a little sad, but always with that easy charming undertow that pulls the audience along with it.

From the Applause! Meter, Calgary review of Mary's Wedding
In 2011, Mary's Wedding was adapted into an opera, with music by Andrew P. MacDonald and a libretto by Massicotte himself.
In 2021 the Citadel Theatre staged a special production of the play, with Massicotte and Alberta Métis-Cree-Haudenosaunee playwright and actor Tai Amy Grauman making changes and additions to the text to portray Mary and Charlie as young Métis Albertans. In this light, the play took on new significances as the young lovers now had to face additional challenges - language and cultural frictions stemming from colonialism. This Charlie heads off to war to fight for a country that he doesn't belong to.
Massicotte's latest play, Stars on Her Shoulders, was previewed as part of the Springboards New Play Festival at Workshop West Theatre in Calgary in the spring of 2023. The story features five nurses who are based in a Canadian Field Hospital, and it explores the very different responses to their role in the First World War.
His unique life experience and keen interest in history is present in much of Massicotte's work, along with lyrical reflections on the social, personal, and spiritual values of everyday people who face life-altering choices due to global circumstances over which they have no control. Mary's Wedding is perhaps his finest example of that.
Learn more about Mary's Wedding: