Back to Listings
Perfect Wedding is the perfect marriage of chaotic comedy and heart-warming love story
July 26, 2023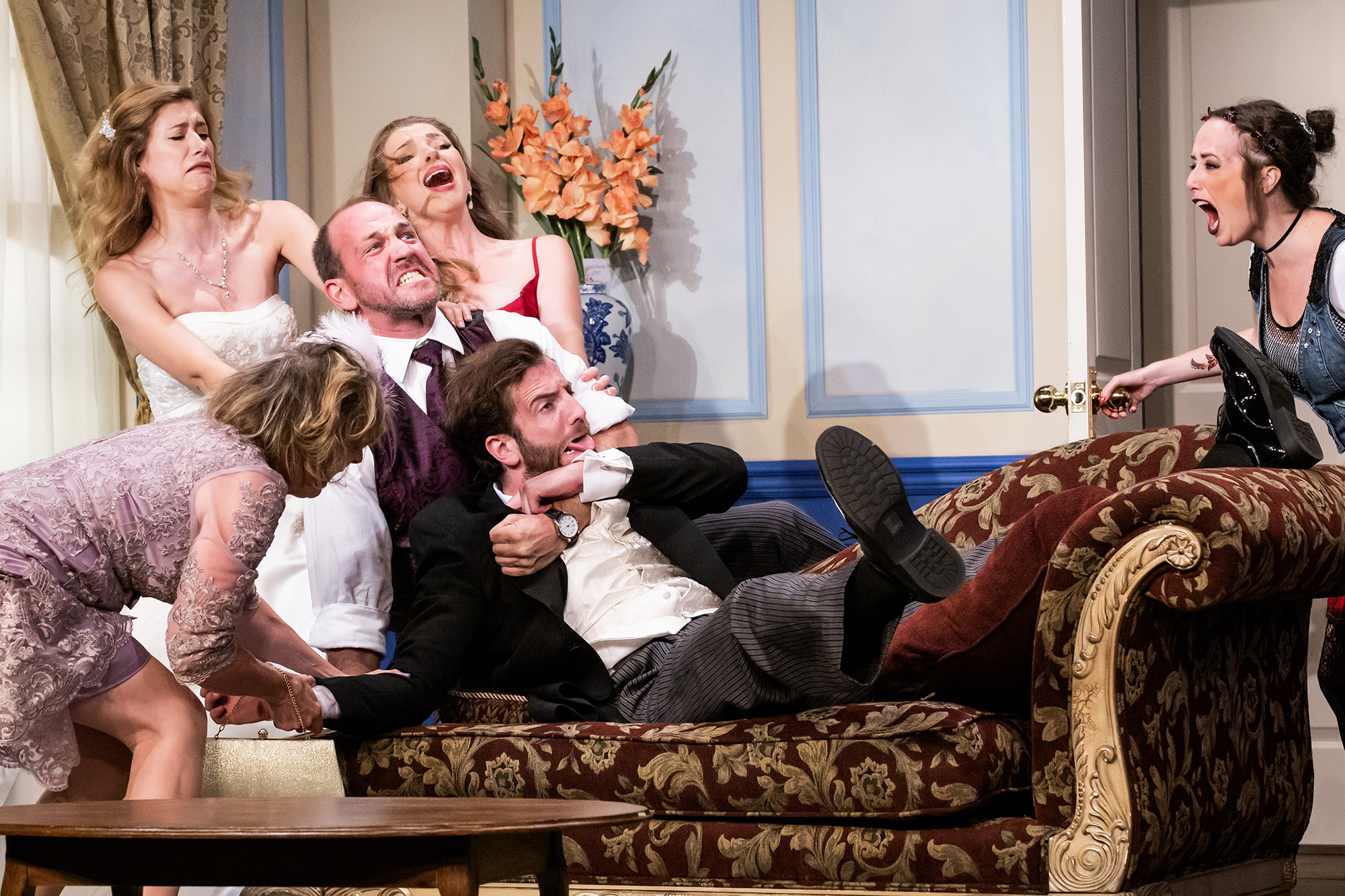 Rebecca Gibian, Mary Harvey, Justin Bott, Emma Rudy, and Tyler Check in Perfect Wedding, Drayton Entertainment, 2023 Season. Directed by Wade Lynch; Set Design by Jeff JohnstonCollins; Costume Design by Jennifer Wonnacott; Lighting Design by Lyle Franklin; Stage Manager Paula Stewart; Apprentice Stage Manager Lauren Roth; Photography by Jenni Grandfield.
People have been toasting Perfect Wedding's nutty nuptials at St. Jacobs Schoolhouse Theatre, and you're invited to join the fun, too.
"Perfect Wedding is a side-splitting play with a cast that belongs together, and audiences love them," says Alex Mustakas, Artistic Director of Drayton Entertainment. "Patrons have been leaving the theatre with huge smiles and warm hearts."
"The show was a hoot from the opening scene to the final act," says recent audience member Donald from Kitchener.
"I laughed so much. It was simply amazing!" adds Pauline, who lives in Welland.
Pat from Orangeville describes Perfect Wedding as a "… fun-filled, fast-paced show!"
The British farce, which marries a riotous comedy with a touching love story, has had audiences rolling in the aisles since the play opened on its "big day", July 19. Perfect Wedding heads off for its honeymoon after the final performance on August 27.
If you're searching for some jolly good fun, this adorable, Britcom-style play is your perfect match.
The matrimonial chaos and hilarity are everything you would expect from the fun-filled hit from across the pond, and the intimate setting of the historic theatre provides the audience a close-up look at the anarchic action on stage.
A bridegroom wakes up with a hangover on the morning of his wedding day and turns to the woman in bed beside him. He has no recollection of her at all, but he does recall that his fiancée is about to arrive at any moment. During the ensuing panic to get the stranger dressed and out of the way, the bride arrives, the woman is trapped in the bathroom, and the best man gets pressed into action. By the time the bride's mother gets in on the action, the chaos reaches hilarious proportions, making the big day far from a piece of cake.
Perfect Wedding's Julie the chambermaid sums up this most unceremonious of ceremonies,. "There are people chasing people round the corridors, there are people trying to kill people with carving knives, there are people strangling people on the furniture!"
If you're searching for some jolly good fun, this adorable, Britcom-style play is your perfect match.