Back to Listings
Dreaming of love during the nightmare of war
September 26, 2023
In the romantic wartime drama Mary's Wedding, a Canadian soldier and a British woman form a deep connection during a time of historic turmoil.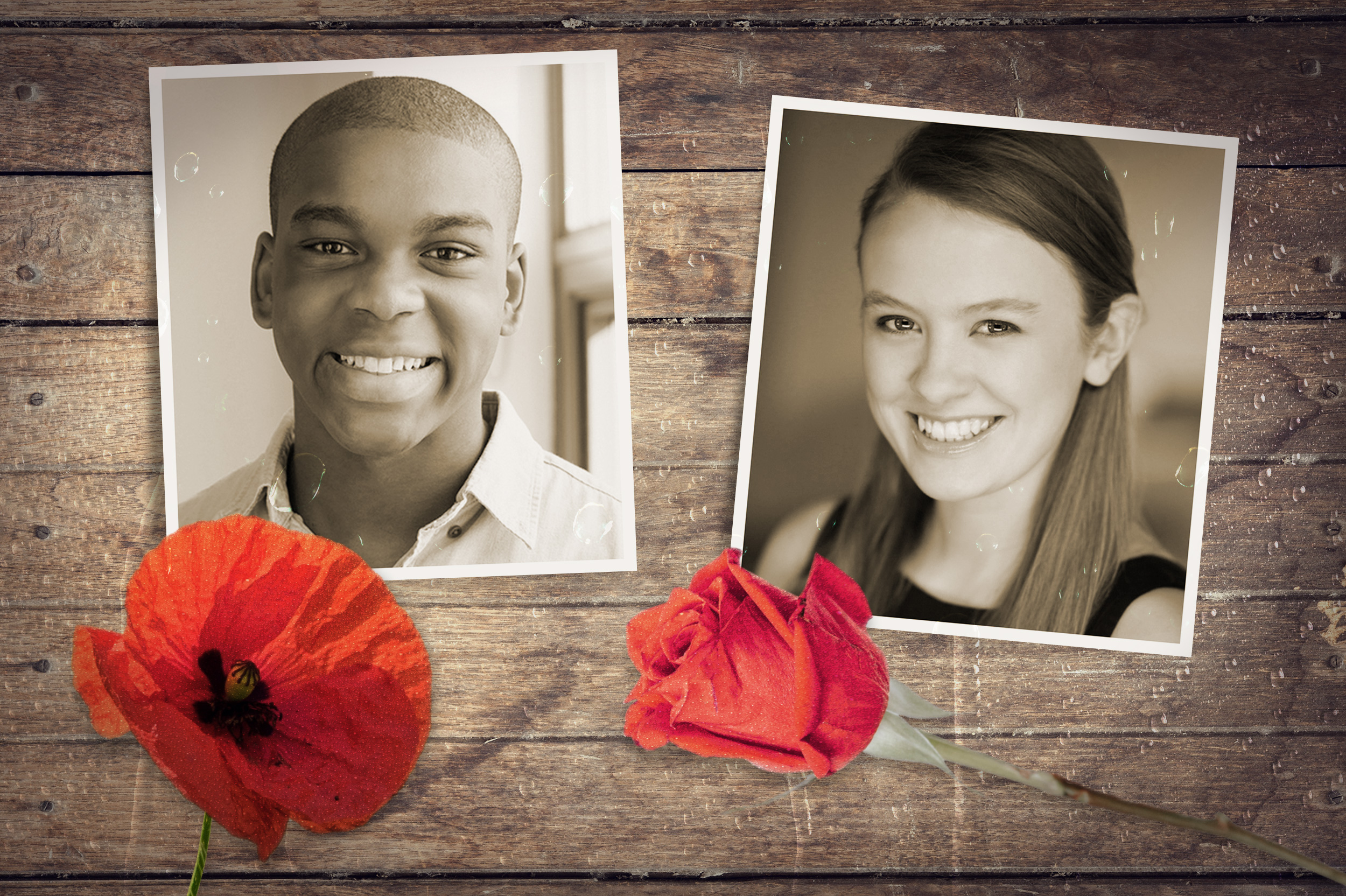 Dante Jemmott and Ellen Denny are Charlie Edwards and Mary Chalmers in the wartime drama, Mary's Wedding.
In rural Alberta, during a thunderstorm that echoes the sound of wartime shelling in Europe, Charlie Edwards is sheltering with his horse in a barn when he meets Mary Chalmers, a recent immigrant from England. It's 1914, and the young man is about to depart for the battlefields of France, where he will face unspeakable horrors. During their brief encounter, Charlie and Mary develop deep and life-changing feelings for each other.
The two-actor drama Mary's Wedding interweaves dreams, memory and imagination as the lovers reminisce – six years after the short time that they spent together – on the eve of the event in the play's title.
Stephen Massicotte's story of love, hope and survival - with Ellen Denny and Dante Jermott as Mary and Charlie - is at St. Jacobs Country Playhouse from October 26 to November 12.
In the program for the Alberta Theatre Projects 2002 premiere of the play, Massicotte revealed the script's origins.
So this was going to be a war play. However, I was in love when I wrote it and I thought it was more of a love to end all loves. This is not that love story but the more I loved her, the more Mary and Charlie loved each other. The more I longed to return to her, the more they longed to return to each other. So the war play became a love story. I wrote it to forget her and to get her back and to remember her and to let her go.

Stephen Massicotte
Poignantly, Massicotte added that the play was also influenced by two stories of women who lost loved ones in the First World War. Their grief was so overwhelming that they never married.
Although this moving tale of romance during a time of turmoil is fictional, true stories of wartime love that crossed an ocean were fairly common. While serving abroad during the First World War, Canadians often found love, just like real-life couple Percy and Hilda Bodaly.
While on leave in September 1917, Corporal Bodaly met 19-year-old Hilda Thornhill in Manchester, and the pair promptly fell in love. Following just one more leave together, as well as many letters, the couple married in January 1919, two months after the war ended.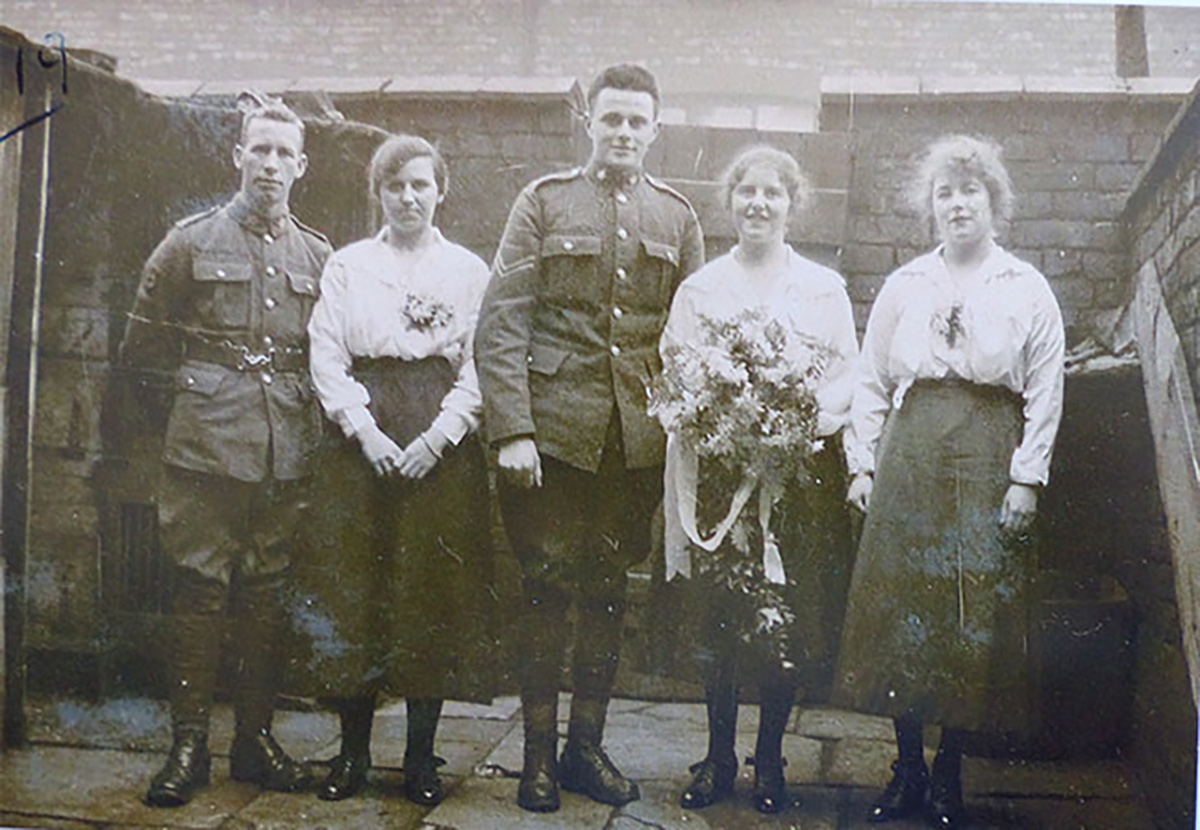 Percy and Hilda Bodaly, third and fourth from left, on their wedding day, in Manchester, England.


On January 4, 1916, at the age of just 19, Percy Bodaly enlisted with the Canadian Expeditionary Forces. His wartime career was spent serving as an orderly in the medical corps at the Duchess of Connaught Red Cross Hospital, a Canadian war hospital in Taplow, about 27 miles west of London, England.
While on leave in September 1917, Corporal Bodaly met 19-year-old Hilda Thornhill in Manchester, a city in the northwest of England, and the pair promptly fell in love. Following just one more leave together, as well as many letters, the couple married in January 1919, two months after the war ended.
In 1919, the Canadian government gave free ocean and rail transportation to Canada for the British dependents of its servicemen. More than 54,000 took up the offer, including Hilda Bodaly.
The Bodalys' grandson, Randy Evans, who lives in Sarnia, is full of pride and admiration for Hilda's courage in leaving her friends and family behind to begin a new life, full of unknowns, thousands of miles away from the country of her birth.
"The trip to their ultimate Canadian destination would not be comfortable," he says. "Despite the war service of their Canadian soldier husbands, the government offered only meagre travel. That meant third-class steerage for the Atlantic crossing. The journey would continue by arduous train accommodation in an old, wooden-seat colonist car."
Hilda disembarked in Halifax on August 14, 1919 after eight days at sea, where she then faced a 3,600-mile train trip to Victoria, B.C., close to where Percy's parents lived. As was often the case for war brides, it would be the first time that she met her spouse's family.
Brief wartime courtships were not unusual, and, after servicemen were discharged, neither was unemployment. However, the Bodalys were more fortunate. After returning from the war, Percy was a machinist at Harbour Marine Company in Victoria, followed by several decades working for Canadian National Railway. Hilda was a homemaker.
Despite the sacrifices and hardships they faced, Hilda and Percy's love helped them to endure.
I think their lives were like any other returning veterans. They had to work hard to find a place to hang their hat.

Randy Evans, Percy and Hilda's grandson; local historian
The couple eventually left Victoria, notes Randy. "My grandfather was from London, Ontario, so they remained in that area."
Percy and Hilda had three children: Fred, Stan, and Joan, Randy's mother.
Randy says, "Both my Uncle Fred and my Uncle Stan, they served in the Air Force during the Second World War, and when they would have leave, they'd go to Manchester because they had aunts, uncles and cousins there."
After he finished school, Randy also visited the city to meet his English family.
Percy died in 1977, and Hilda passed away two years later, both at the age of 80.
Randy has been familiar with his grandparents' love story since he was a child. There were some wartime stories that Percy wouldn't – or couldn't – share, but his whirlwind romance with Hilda wasn't one of them.
It's important to Randy that his grandparents' story lives on.
"My first love was always history, and quite frankly, it was my grandpa who always instilled that in me. When I retired, I picked up writing history as a community service."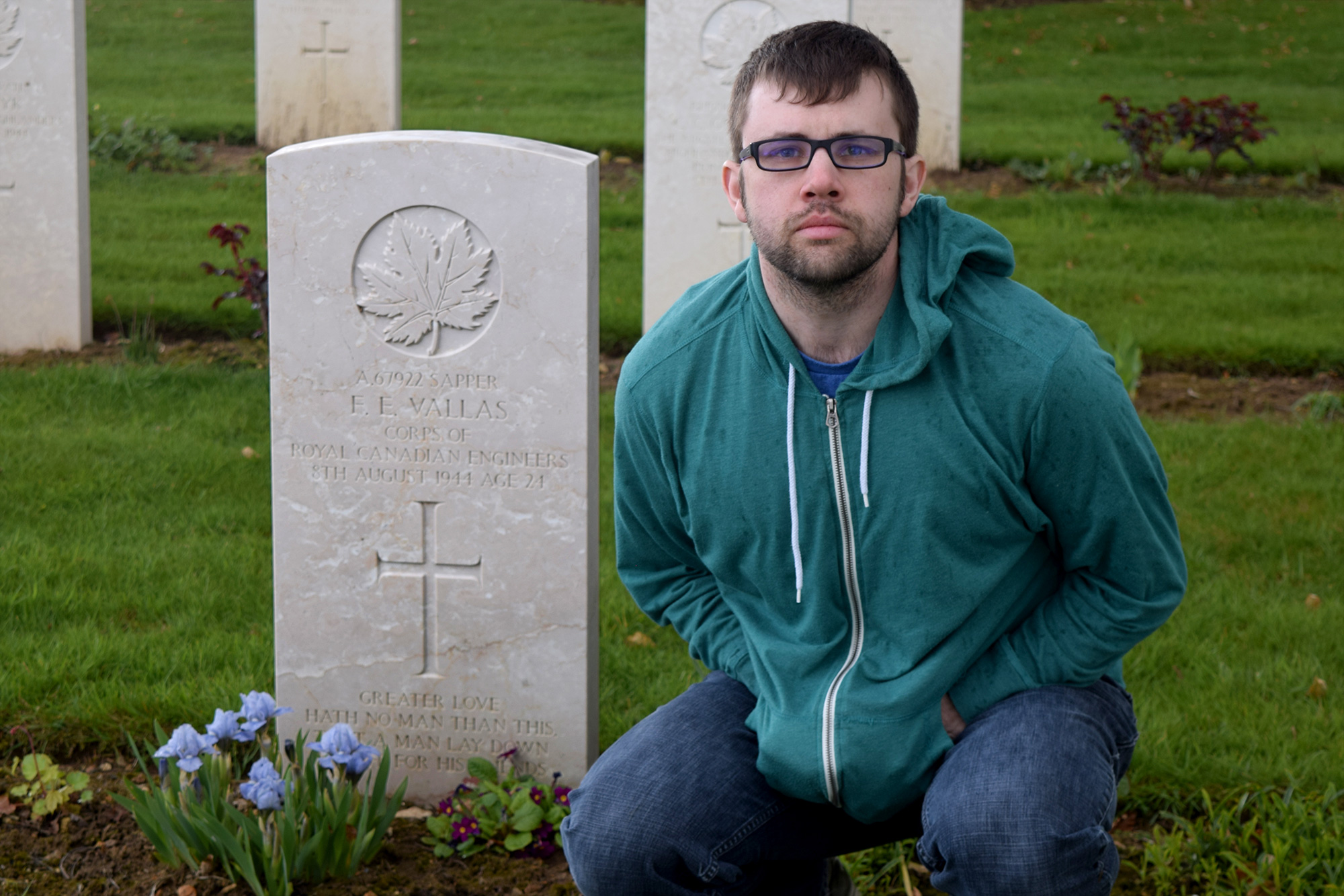 Waterloo Ward 2 councillor Royce Bodaly is Percy and Hilda's great-grandson, and in 2016, he visited his great-uncle's grave in France, where he was killed during the Second World War.
Percy and Hilda's great-grandson is Royce Bodaly, Ward 2 councillor for the City of Waterloo, and his grandfather, Fred, was their first child. Like Randy, Royce is keen to preserve the links to his ancestors.
"I knew that there was a family connection to both the First and Second World Wars, but knew very little about the specifics," he says. "I learned a little bit more about World War II family history on my grandmother's side as I became an adult and had the opportunity to visit her brother's grave on a trip to France."
"It was impactful for me to visit, to take a picture, and to reflect. Coming home and being able to show my dad the picture, and to share it with my grandmother, who was still alive at the time and was a big part of my childhood, meant a lot to me."
He adds, "I couldn't help but think that for my kids, the opportunity to visit may not have meant as much, having been an extra generation removed. When I first learned about the story of my great-grandparents, it confirmed that extra generational connection having been lost. I didn't know anything about them, and it's been great to have learned a bit more to share with my sisters, wife and children."
I can only imagine what (Hilda) felt in taking this step to leave her home and embark on this journey towards a new life. Had she not made this decision, I would not be here.

Royce Bodaly, Percy and Hilda's great-grandson; Ward 2 councillor, City of Waterloo
Royce is in awe of his great-grandmother for taking a leap of faith and moving from England to Canada.
"It's incredible to think of the enormity of this decision in modern times, let alone more than 100 years ago. I can only imagine what she felt in taking this step to leave her home and embark on this journey towards a new life. On a personal note, it speaks to how the decisions we make in our lives, both large and small, can impact people for generations. Had she not made this decision, I would not be here."
Royce believes that his family's story has relevance beyond its own personal experience.
"It's really important and challenging to contextualize the day-to-day history of those who lived through significant events like the First World War. Learning about everyday people, their thoughts and struggles, the decisions that they made, and why, is a necessary element to bring a human element to these discussions. I appreciate Drayton Entertainment finding a unique way to bring these stories to life."
Thank you to Randy Evans and Royce Bodaly for their generous assistance with this article.
---
Learn more about Mary's Wedding: