Back to Listings
Bittergirl – the Musical finds the humour in heartache
November 14, 2023
Three suddenly single women become friends after they find solace in their shared heartache. The hilarious hit musical Bittergirl - The Musical mirrors the sisterhood and resilience of the trio of writers who created it.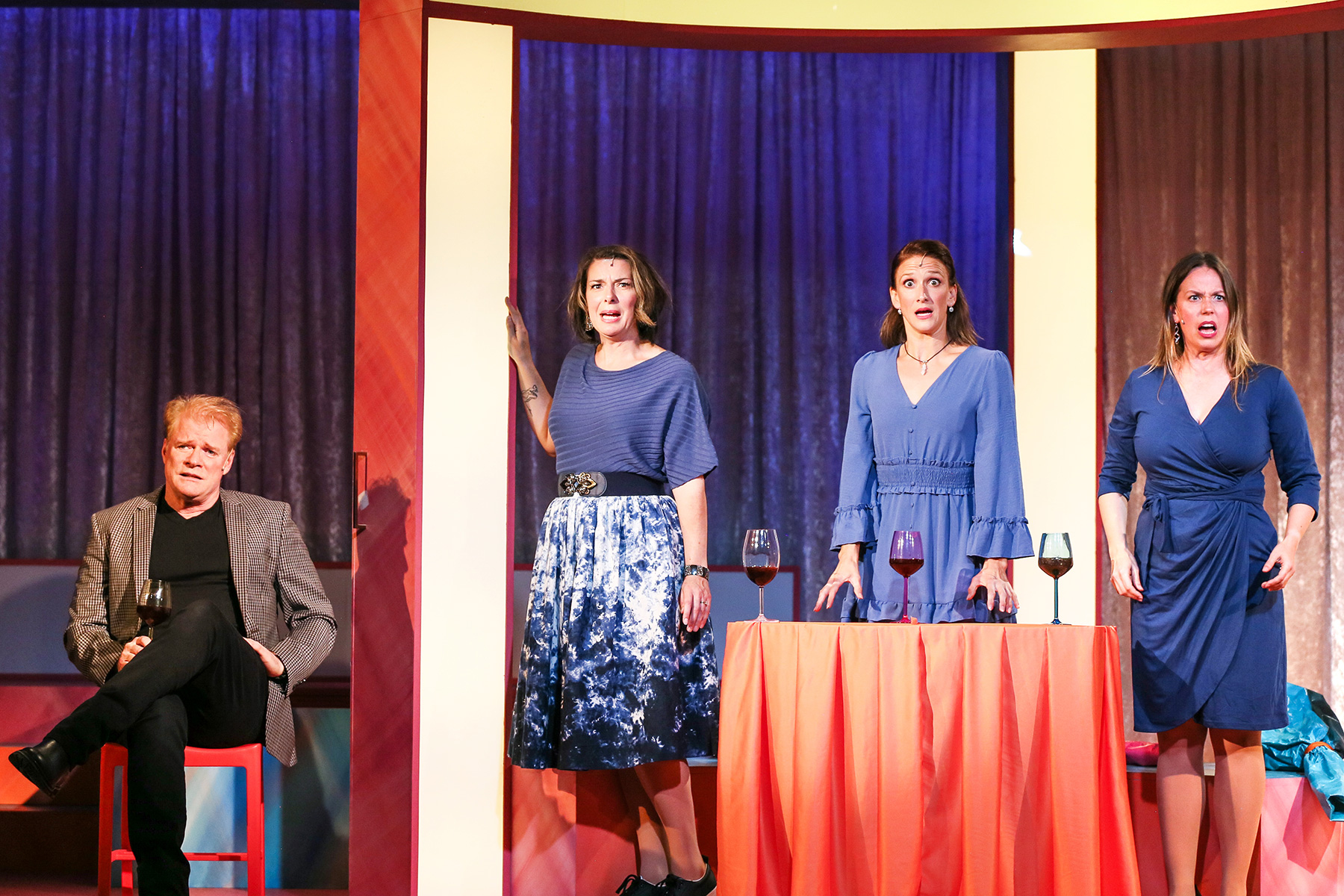 Mark Harapiak, Sara-Jeanne Hosie, Keely Hutton, and Lauren Bowler in Bittergirl - The Musical, Drayton Entertainment, 2023 Season. Directed by Mary Francis Moore; Choreography/Associate Direction by Robin Calvert; Music Direction by Melissa Morris; Set Design by David Boechler; Costume Design by Jessica Pembleton; Lighting Design by Kevin Fraser; Stage Manager Charles Russell; Assistant Stage Manager Nadene Riehl; Photography by Jenni Grandfield.


Bittergirl – The Musical follows the stories of three very different and accomplished women who share something in common: They were all on the receiving end of very messy break-ups.
The show charts the scorned trio's journeys - from shock to grief to recovery - with some classic, catchy 60s and 70s tunes to guide them along the way, including "Where Did Our Love Go?", "Always Something There to Remind Me", and "I Will Survive".
The authors, Annabel Fitzsimmons, Alison Lawrence and Mary Francis Moore, turned their own experiences into a joyous hit show as a way of celebrating the sisterhood and friendship that made them stronger.
You can get a taste of their heartache and humour in Bittergirl – The Musical, which is at St. Jacobs Schoolhouse Theatre until December 24. The production is being directed by Moore.
The female characters – unnamed on stage, but referred to in the script as A, B, and C – are based on the authors. Their three exes are represented by one male, called D (for "dumped").
Lauren Bowler, Mark Harapiak, Sara-Jeanne Hosie and Keely Hutton bring their roles hilariously and harmoniously to life, while Music Director Melissa Morris provides onstage piano accompaniment.
A bittergirl turns yesterday's heartache into tomorrow's one liner. It's how we get through.

Bittergirl – The Musical
When A, B and C bond over their own abandonment, they find that they have a lot in common. For a start, there are the juvenile justifications that their exes cite for separating. "I feel trapped," laments one. "I can't give you what you want," opines another, managing to be both unselfish and self-centred simultaneously. And then there's the sublime excuse, "We've got to be birds flying higher," which lands like a giant splat on the windshield.
After being subjected to the old cliché of "It's not you, it's me" that preceded their unexpected and unceremonious dumpings, A, B and C initially try to change themselves so that they'll become more attractive to the men who walked away.
Their journey through the show – including binge eating and sobbing, working out to get into shape, and devilish thoughts of keying his car – eventually leads them to the realization that the cliché was right: It wasn't them, it was him.
While Bittergirl – The Musical begins with the women's pain over the breakdown of relationships in which they'd invested so much, it gradually becomes an odyssey of enlightenment as they grow stronger, together.
And so it was with the show's authors, Fitzsimmons, Lawrence and Moore.
The trio, all of whom are writers and actors, met in Toronto in 1999 after their own bad break-ups. One was divorced, one had just been dumped by her longtime partner, and one was recovering from a failed short-term romance.
Their lost loves proved to be a lucrative source of material. During weekly coffee shop meetups, they turned their relatable relationship failures into the hit comedy bittergirl, in which they originally played the three main characters themselves.
The play had humble beginnings, with performances in bars and small clubs where washrooms or storage closets would double as changing rooms. But it eventually found its way onto bigger stages. After three sell-out runs in Toronto, it had an international tour that made stops in London and New York.
Turn off your flashlight. Don't look - don't look! We're not peeping Toms here... we haven't sunk that far...

"B", in Bittergirl - The Musical
In 2005, Fitzsimmons, Lawrence and Moore penned a complementary self-help book, "Bittergirl: Getting Over Getting Dumped". That led to them becoming sought-after authorities on abandonment, with press interviews and T.V. appearances, including on NBC's "Today Show". According to the Bittergirls' website, the experts on exes "have offered advice on television, radio, in line at the grocery store and the waiting room of their OB/GYN."
Bittergirl - the Musical combines elements of the original play and the follow-up book, with a healthy dash of girl-group melodies to drive the story and lift the spirits. The heartwarming show debuted in 2015 at The Mack cabaret theatre as part of The Charlottetown Festival in P.E.I. before connecting with sold-out audiences across Canada.
Rather than wallowing in negativity, the show revels in the growth and empowerment of three women through the ups and downs of their friendship, with a soundtrack that skillfully mirrors their emotions.
From misery to mirth, Bittergirl – The Musical laughs through the tears and finds that there's humour in heartbreak.
Even if you're not a member of "The Bittergirl Club" who will be nodding along in recognition, you'll still enjoy the fun at the intimate St. Jacobs Schoolhouse Theatre until December 24.
Learn more about Bittergirl - The Musical: