Back to Listings
Theatre trips are a family affair for August's 50/50 winner, Ayr's Melba White
September 19, 2023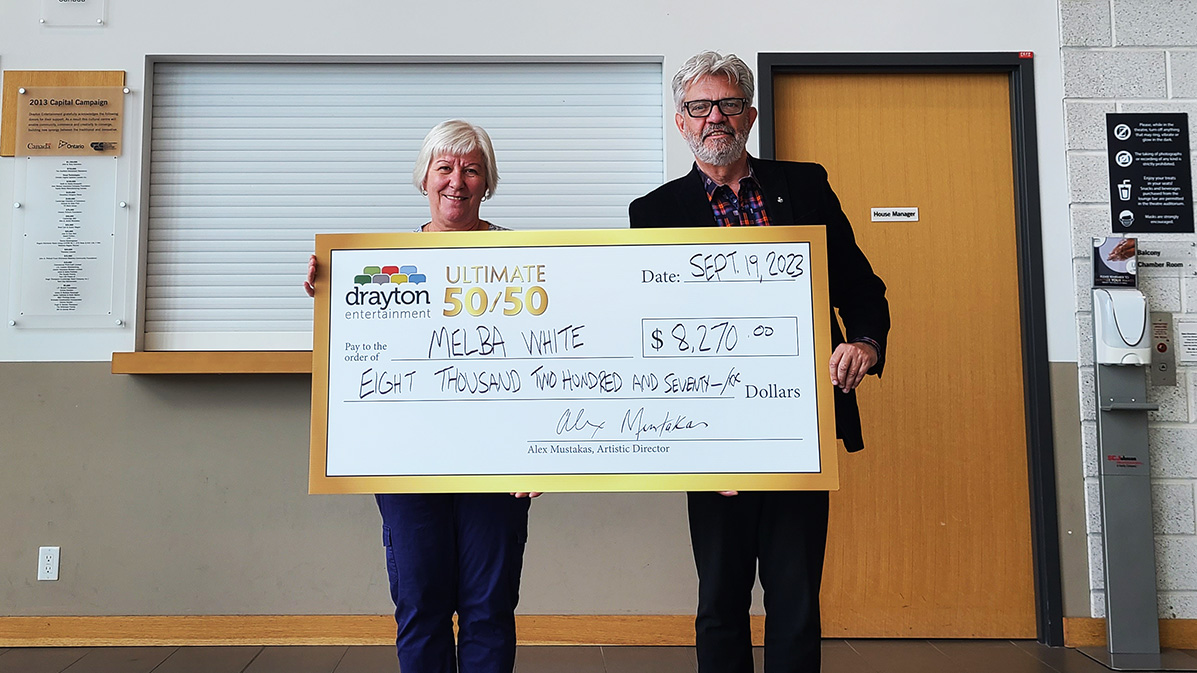 Ayr's Melba White collected her August 50/50 draw winnings from Drayton Entertainment's Artistic Director Alex Mustakas.


One word sums up Melba White's reaction when she found out she'd won August's 50/50 jackpot: Speechless.
"I don't think I've ever won anything major like that ever in my life, so it was sort of a shock," says the Ayr resident. She visited Hamilton Family Theatre Cambridge on September 19 to collect her winnings from Drayton Entertainment's Artistic Director, Alex Mustakas.
White almost didn't answer the phone when Jonathan Randall, Director of Marketing & Development, rang to break the good news.
"I normally don't answer it when I don't recognize the number, but it said Drayton, so I did. I guess I just totally forgot about buying the tickets!"
Her lucky number was #99002805088, with a grand prize of $8,270.
White's winnings came at just the right time. "We're planning a cruise in November," she says.
She began entering the 50/50 lottery during the pandemic as a way of supporting Drayton Entertainment.
The live theatre fan enjoys musicals, and one of her favourites is 2018's production of Ghost: The Musical at St. Jacobs Country Playhouse. "This year, I've seen Kinky Boots, Rock of Ages and The Prom," she says. "I've always loved Mamma Mia!, which I've seen it a couple times here, too, so that's one of my favourites as well."
Theatre visits are always a family affair for White, often with her adult children. Her daughter caught the drama bug at high school, she says. However, one family member took some convincing.
"My husband bailed last time on Mamma Mia!, so we dragged him along, and he totally loved it," says White. "Now, he's pretty much at every show that we've gone to."
White is looking forward to seeing Peter Pan: The Panto, which opens at King's Wharf Theatre on November 8, before flying onto the stage at St. Jacobs Country Playhouse on November 29.
When her son was a child, she would attend pantos with him.
"His class always did a Christmas panto field trip, and I went as a parent volunteer. I didn't know what to expect, but I had a great time."
Now, an annual pantomime has become a family tradition, White says.
"That's one thing we always do, regardless of what other shows we pick up."
---
Tickets for the next draw are already on sale. The October raffle will run through 11:59 p.m. on Saturday, September 30 with a Grand Prize draw at noon on Sunday, October 1. Tickets are available for purchase online at https://drayton5050.com, with three tickets for $10, 40 tickets for $20, or 100 tickets for $40.
The jackpot is updated online in real-time and grows as more people participate – the published amount is the winner's take-home prize.
Tickets may be purchased by individuals 18 years or older and located in the Province of Ontario at the time of purchase. All ticket sales are final and ticket buyers will receive a receipt via email after purchasing that will list all numbers associated with the purchased tickets.
Tickets are sold using an electronic raffle system approved by the Alcohol and Gaming Commission of Ontario (AGCO) and supplied by Bump Worldwide Inc. Raffle License AGCO #RAF1232607. Please play responsibly. Ontario Problem Gambling Helpline 1-888-230-3505 or visit www.connexontario.ca. For complete details, including rules of participation and frequently asked questions, please visit: https://drayton5050.com.
About Drayton Entertainment
Drayton Entertainment is an award-winning, not-for-profit charitable arts organization (12591 1313 RR0001) operating six professional live theatre venues in five Ontario communities – the original Drayton Festival Theatre in Drayton, Huron Country Playhouse (Mainstage and South Huron Stage) in Grand Bend, King's Wharf Theatre in Penetanguishene, St. Jacobs Country Playhouse and Schoolhouse Theatre in St. Jacobs, and the Hamilton Family Theatre in Cambridge.
Drayton Entertainment is one of the largest employers of professional artists in the country across all artistic disciplines with over 400 artist contracts issued annually. The organization's sustainable theatre model has emerged as a powerful force for culture and tourism in the province and has been recognized by the office of the Lieutenant Governor of Ontario as well as the Ontario Innovation Excellence Awards.
Learn more about Peter Pan: The Panto