Welcome back... we've missed you!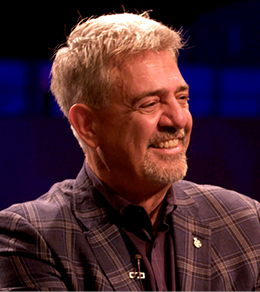 A Message from Artistic Director Alex Mustakas
Our doors are open, the stage lights are on, and we're thrilled to finally welcome you back to all our venues across the province. Be a tourist close to home, and rediscover LIVE theatre at the Drayton Festival Theatre in Drayton, Hamilton Family Theatre in Cambridge, Huron Country Playhouse in Grand Bend, King's Wharf Theatre in Penetanguishene, and St. Jacobs Country Playhouse and the Schoolhouse Theatre in St. Jacobs.
Our seven stages will be alive with memorable music, entertaining stories, joyful laughter, heartfelt applause, and maybe even a few tears as we celebrate the long-awaited chance to be together again sharing the magic of LIVE theatre. This season will look a little different with perhaps one or two fewer shows as we cautiously resume operations, but the top-quality entertainment experience and customer service you've come to expect remain the same.

These last two years have been challenging, but they've also given us time to develop an exciting project – The Drayton Entertainment Youth Academy. We have seen firsthand the impact we have on the lives of young people through arts education. The world has changed significantly over the past few years, and we must change with it by supporting a broader generational shift in our society. We will accomplish this by providing training opportunities to youth in the Drayton Entertainment brand of performing arts excellence. Click here for more information about our new Youth Academy.

This is also a very special year for the Huron Country Playhouse as we celebrate 50 years of theatre in Grand Bend. Commemorating the longevity of this iconic summer theatre means that much more after all we've been through over the last few years, so make a special trip to Grand Bend – hit the beach, visit local restaurants, play a round of golf, stay over at one of the many first-rate area accommodations, and of course, see a show or two to mark this momentous anniversary.

We cannot thank you enough for your unwavering support. Although we continue to navigate this ongoing pandemic, we're hopeful about the future. We know you love LIVE theatre as much as we do, so please join us in making wonderful memories this season. Years from now we'll all talk about where we were, and what shows we saw, the year that theatre came back. Click here to discover what's on stage this season and start planning your return.

See you at the theatre!


Alex Mustakas
Artistic Director
There are no upcoming shows for Drayton Festival Theatre in our current season. Please check back!
There are no upcoming shows for Huron Country Playhouse in our current season. Please check back!
There are no upcoming shows for King's Wharf Theatre in our current season. Please check back!
There are no upcoming shows for St. Jacobs Schoolhouse Theatre in our current season. Please check back!