Back to Listings
Love and hope are uplifting themes in the romantic wartime drama, Mary's Wedding
October 12, 2023
Stephen Massicotte's modern Canadian classic weaves together time, dreams and memory in a compelling two-actor play.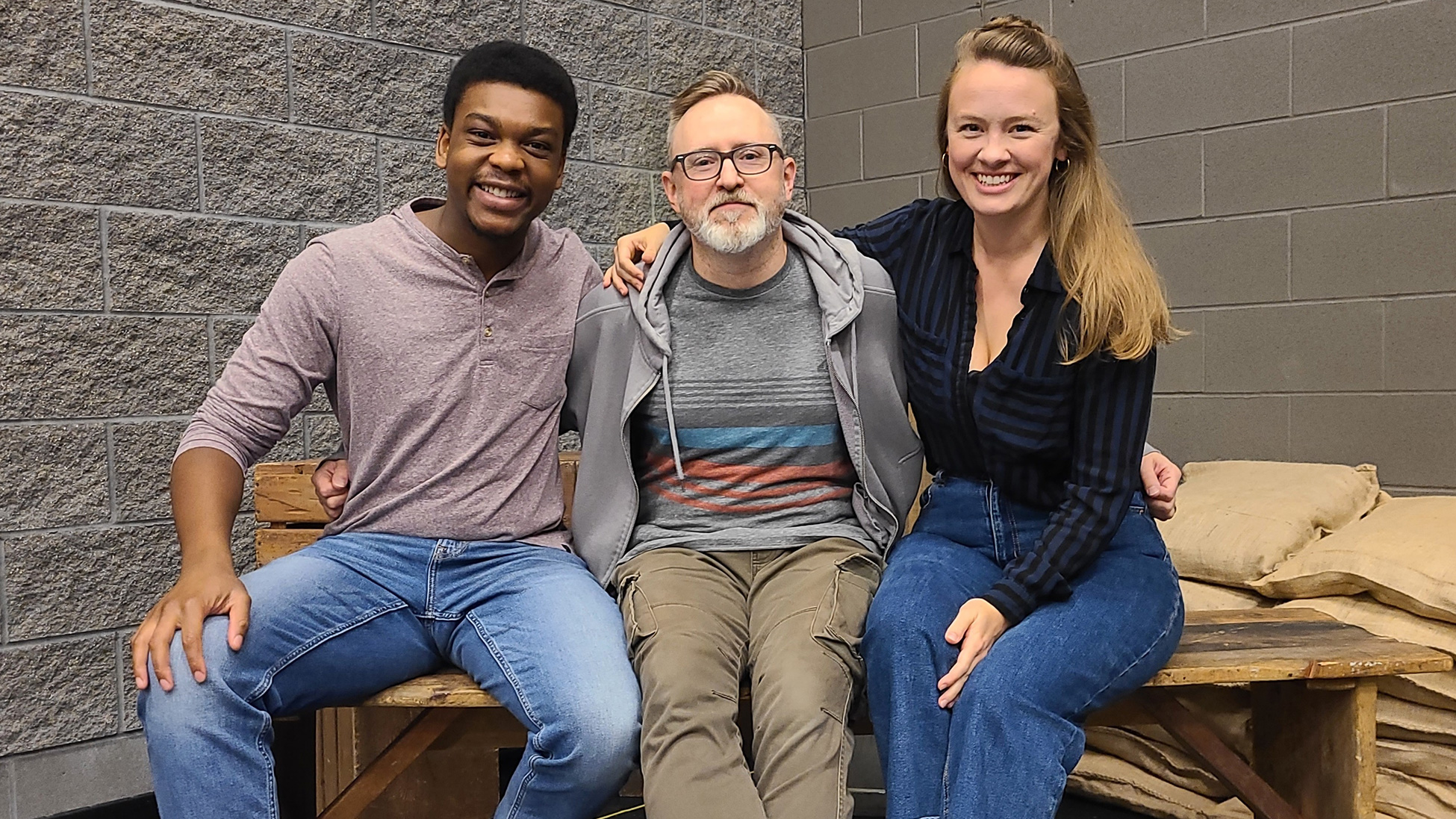 From left: Dante Jemmott (Charlie), director Skye Brandon, and Ellen Denny (Mary) during rehearsals for the romantic drama, Mary's Wedding.


On the night before her wedding, Mary Chalmers, a recent immigrant from England, dreams of a thunderstorm, during which she unexpectedly meets Canadian soldier Charlie Edwards sheltering in a barn. Over time, the two discover an innocent first love, just as the world is collapsing into a nightmarish conflict.
Mary's Wedding weaves together time, dreams and memory in a romantic drama set during the Great War and beyond.
The two-actor modern Canadian classic opens at St. Jacobs Country Playhouse on October 26 and runs until November 12, directed by Skye Brandon, with Ellen Denny as Mary and Dante Jemmott as Charlie.
Despite the play being set during a time of war, all three agree that it has recurring themes that evoke positive and uplifting emotions.
"I think love. That's a big one," says Brandon. "I've had the privilege of talking with the playwright Stephen Massicotte, and I know a key word that's important to him is 'hope'. That's in the body of his work, not just this play."
Brandon is also an actor. To him, the most poignant line is one that he's performed himself.
"I got to be in this play with my wife a number of years ago. I do love the line, 'You are the best thing. The very best thing.'"
Jemmott's favourite moment also has personal, romantic resonance.
"I really enjoy the moment where they meet for the first time. It's love at first sight, and it's just reminiscent of my own story with my own wife and us meeting for the first time. It was like, 'Great! Gonna marry you!' There's so many moments to love in this play, but for me, that's just really a personal touch for me."
Denny adds, "I hope that, as Dante mentioned, it brings up memories of love for folks. I think it is a beautiful love story, especially with first love, and love at first sight, and young love. There's something so sweet about that, so I hope that that brings that back for people."
This production was originally scheduled to be directed by Canadian theatre icon, Marti Maraden, who passed away on August 31 at the age of 78. Her loss was felt deeply by many in the industry, including Brandon.
"Theatrically, she meant everything. At a certain point, no matter how hard you work and all the things that you do for yourself, you need someone to say, 'I see the work that you do, and I'm going to reach my hand back and pull you forward.' She did that for me and many other people. Beyond a colleague and a mentor, she was a dear friend."
He feels that a period piece like Mary's Wedding can remind us of our common humanity.
"I think that's why I love doing plays that are set in the past and have some kind of historical reference, because it's a way that you can talk about things that are happening today or have happened recently, through a lens to show you how similar we are to even 100 years ago. Things are not that different in many, many ways."
The First World War was a defining event in Canadian history, Brandon says, because it began just 47 years after Confederation.
"In terms of a sense of duty to Great Britain, once it declared war on Germany, it was pretty quick, the response of Canada going, 'Yep, we're gonna send people and be a part of this'. For many people, there was still a strong tie to Great Britain, to England, and so they saw it as a sense of duty, in terms of their responsibility in answering the call."
"Mary's Wedding has been done all over the world, so it's almost broader than that to me," says Denny. "Of course, there is a lot in the play about how Canadians fought in World War I, and what they were known for. Canadians are particularly proud of that legacy. But there is also something really universal about it, I think."
"I hope that people will feel connected to this history," she adds. "It's a really important thing to remember what happened with the First World War and the sacrifices that were made. Time is marching on, and we've lost the people who were part of that experience now."
Jemmott says, "You get a sense of how people came into Canada, the sense of patriotism that people had for their country. I sense that in the play, especially in learning about how Mary comes to the country. We had a little bit of a conversation about the family dynamic for Charlie, and how long he's been in Canada, considering he was born here and Mary was not. There's nods to how people arrived here and how this has become home."
Performing in a play that has a real, historical context comes with challenges and obligations, say the cast members.
"Research. You've got to make sure you know what you're talking about, or else the specificity that's required for the work is just missing," says Jemmott.
"Also, holding the weight of the fact that this is an experience that a lot of people lived through, and are living through currently," elaborates Denny. "Remembering that adds a weight to our responsibility, but it's also an honour to do that."
The two actors think that Mary's Wedding, which is 90 minutes long, without an intermission, will be a thoroughly rewarding experience for both them and the audience.
Denny says, "Two-handers are really different. As an actor, I always love when you can stay immersed in the story, as opposed to having a bunch of costume changes, or set changes, or taking a break for a while. I think it allows the audience and us to go that much further into the world."
Jemmott agrees. "This play is so special. The journey that the audience will go through is unique. I hope that it ignites a desire to come back to the theatre, especially post-pandemic, that people feel they have permission to be imaginative, and that it will bring them back. So, that's one of the hopes that I have in this play as well."
Learn more about Mary's Wedding