Back to Listings
Broadway epic Evita shows the glamorous allure of political power
October 23, 2023
The biographical musical about one of the most influential women in history opens at the Hamilton Family Theatre Cambridge this fall.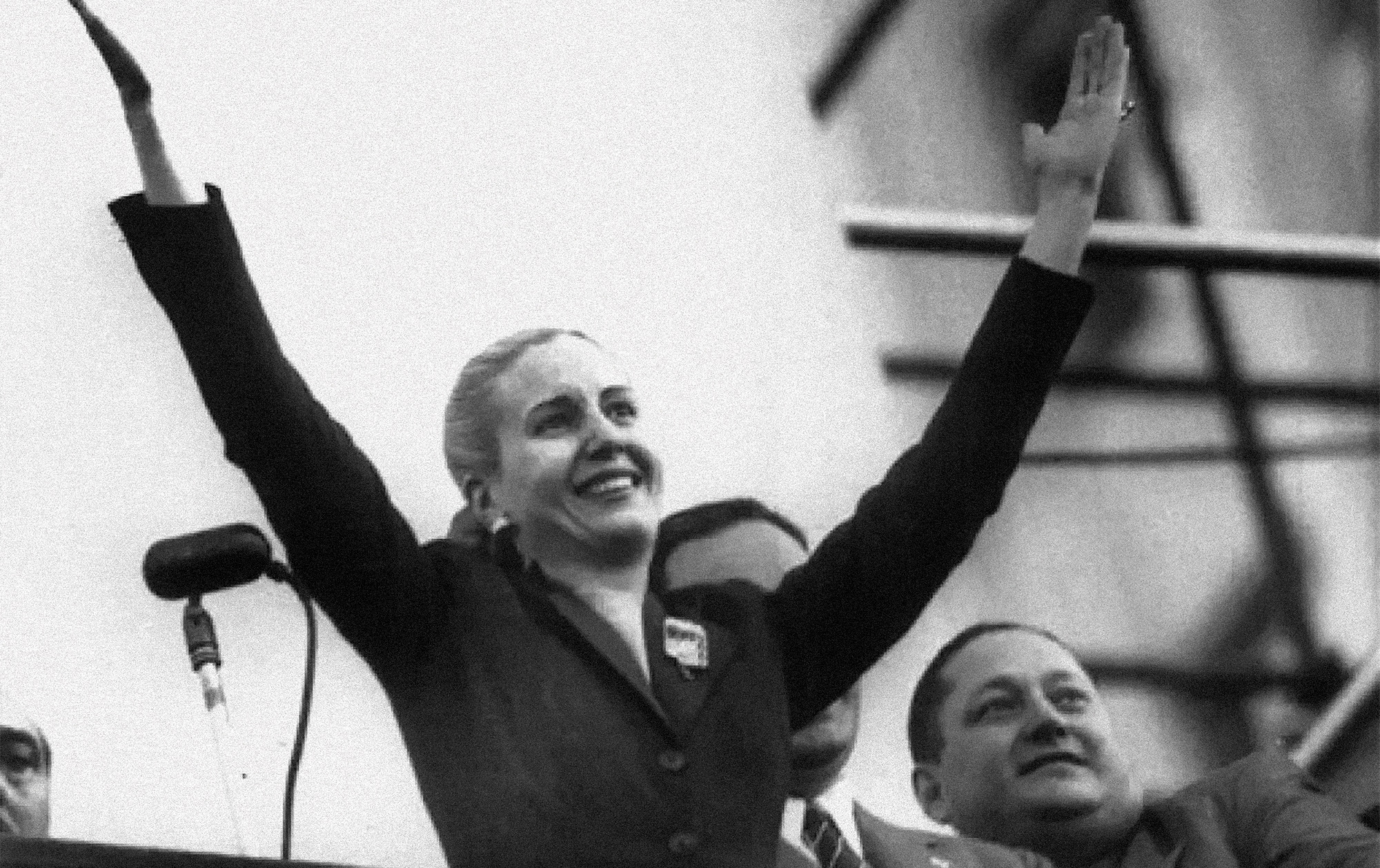 Eva Perón - Evita - salutes the public during a 1951 political rally for her husband, Argentina's President Juan Perón. (Photo: Archivo Clarin, Public domain, via Wikimedia Commons)


"Oh what a circus, oh what a show."
Audiences will be going crazy and falling over themselves to get tickets when the blockbuster musical Evita opens at Hamilton Family Theatre Cambridge on October 26. The historic tale of power and ambition, featuring music by Andrew Lloyd Webber and lyrics by Tim Rice, is nearly sold out and will be ringing the curtain down on November 5.
The epic musical biography tells the story of María Eva Duarte, who became one the most powerful women in the world.
Born in 1919 in the rural Argentinian town of Los Toldos, Eva and her family lived in abject poverty. As a student, she fell in love with acting and moved to Buenos Aires in 1934 to pursue a career on stage and screen.
In 1944, she met Colonel Juan Perón, who, following a military coup, was serving as the Secretary of War and Labour. They married in 1945, and Juan became president the next year.
Even though she was not an elected official, Eva had significant influence as First Lady. She fought for the rights of descamisados, the nickname given to shirtless labourers, and also secured the vote for women in 1947. Her actions endeared her to the public, who affectionately called her Evita, or "Little Eva".
While she could relate to the plight of the working class, she also enjoyed the trappings of influence and success. When Eva toured Europe to champion her husband's agenda, she was accompanied by a huge entourage.
Despite her popularity and power – or perhaps because of it – she was subjected to misogynistic labels and rumours, including suggestions that she was a manipulative seductress.
She died from cancer in 1952, at the age of just 33.
Evita begins with her state funeral, when her passing was mourned by millions across Argentina.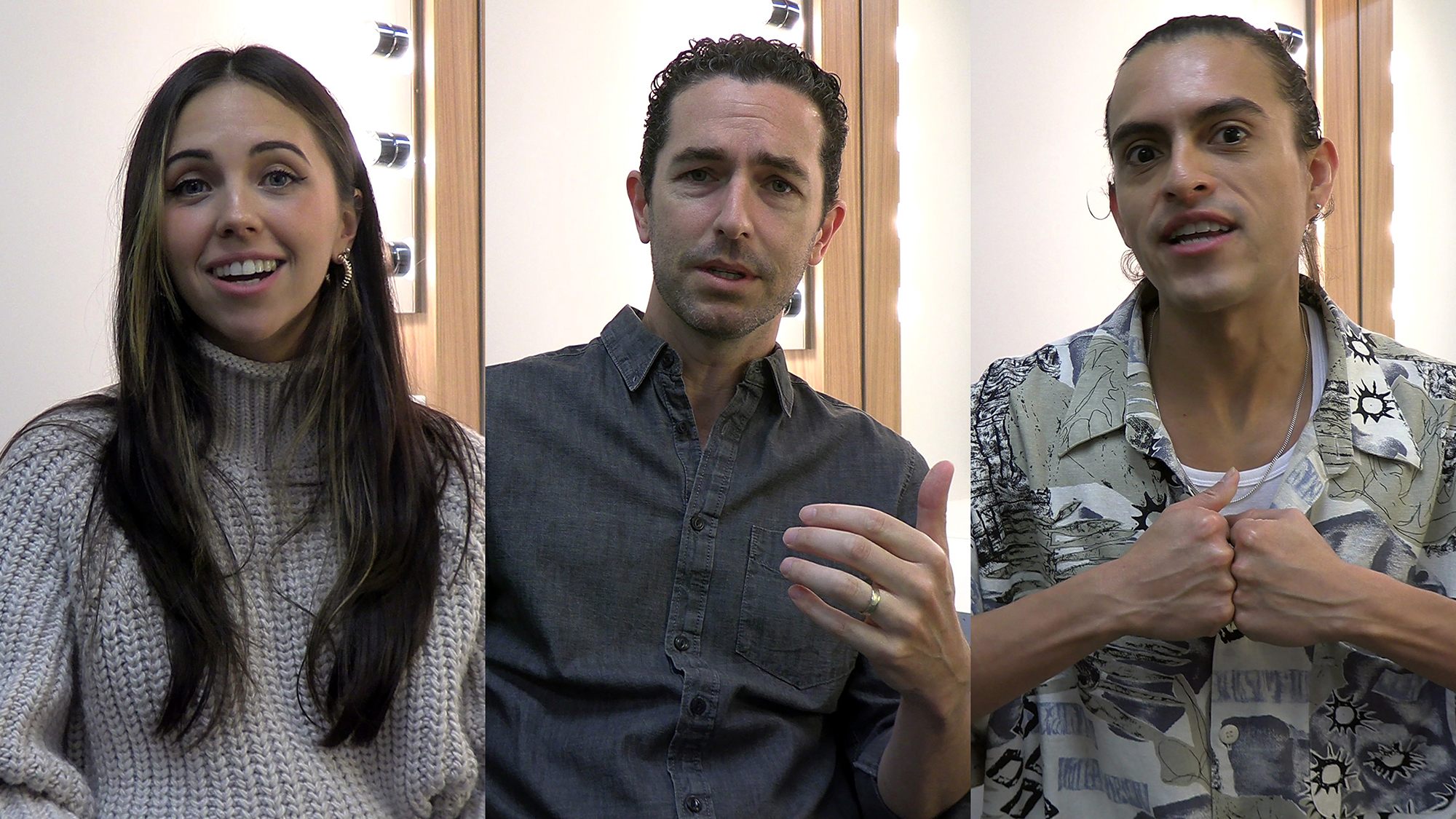 From the company of Evita: Mariah Campos (Eva Perón), Eric Craig (Juan Perón), and Nico Solarte (Che).


Mariah Campos takes on the iconic title role of the ambitious historical figure with humble origins who became a powerful and influential leader.
"The drive, I think, comes from her childhood and the trauma from that, and that really gave her the push to how she got to become the First Lady of Argentina," she says.
Now I am a worker. I've suffered the way that you do.
I've been unemployed and I've starved and I hated it, too.
But I found my salvation
In Peron - May the nation
Let him save them as he saved me.

Eva Perón ("A New Argentina")
Eric Craig, who plays her husband, says, "Both the characters of Juan and Eva Perón, they're obviously very complicated people. I think in this particular telling of their lives, we see so much of their ambition, we see so much of their rise to power and their eventual fall. But I think that the driving force for him is about seeing how far he can go, seeing how big he can get."
Eva's influence on the world can't be underestimated, adds Campos.
"I think she's impacted it immensely, especially for women and for the working class. She fought a lot for worker and labour rights, especially for Argentina. But I also think it made a wave throughout America as well, and through the world."
Nico Solarte is Che, who narrates and comments on the events in Eva's life, and highlights how her lifestyle was sometimes at odds with the values that she stood for.
"My character, inspired by the real figure of Che Guevara, serves as an opposition to what Evita represents. Che's representing the people, the working class, and that juxtaposition, I feel, adds another layer to the musical. Although they didn't live in the same time, they still both represent opposing sides of the story we're trying to tell. He serves as an antagonizing voice to Evita's journey."
High flying, adored,
What happens now, where do you go from here?
For someone on top of the world,
The view's not exactly clear.

Che Guevara ("High Flying, Adored")
Evita was an instant success when it premiered in London's West End in 1978, and it opened on Broadway the following year. It was the first British show to be honoured with a Tony for Best Musical.
Solarte says, "Our director, Michael Lichtefeld, was in the original Broadway production with Patti LuPone and Mandy Patinkin, so he's really specific about what he wants the show to look like. There have been other productions that have changed lyrics, changed songs, but we're going back to where the story originated. It's a classic."
The musical is still relevant, 45 years after it was first produced, says Campos.
"It's important because I think we're living a lot of the main ideas in the show. It's one of the main ideas for me, how power can influence people to do crazy things. I think it's relatable today, especially in our political climate."
Craig says that Evita cautions us against worshiping those in society who wield power.
"One of the biggest warnings that this show offers us is that we have a tendency as a culture to equate glamour with goodness. We're going to show you these people who are wildly charismatic and very beautiful, but doing some pretty questionable things to the people they claim to be serving. I think it holds up that tension a little bit in a way that we need to be paying attention to right now."
The people belong to no one.
They are fickle, can be manipulated.
They don't matter.

Juan Perón ("Dice Are Rolling")
There's hardly any spoken dialogue, and the story is told almost entirely with songs. Campos's favourite is "Rainbow High", because it shows how Evita revels in the glamorous lifestyle that comes with her position.
"It's one of those moments where she's putting on the clothes, the Dior, and she's really feeling the power, and I think it's one of those numbers that's really fun for me," she says.
All you will see is a girl you once knew,
Although she's dressed up to the nines,
At sixes and sevens with you.

Eva Perón ("Don't Cry For Me, Argentina")
Craig has loved the musical since he was a student because it showed him the art of the possible.
He says, "I had the soundtrack to Evita when I was in grade 10, grade 11. 'High Flying, Adored' was the most beautiful thing I had ever heard, and Mandy Patinkin's voice, specifically, I thought, 'That's inhuman'. So many of the things he did on the show just seemed impossible from a vocal standpoint. That brings me back to listening to those soundtracks when I was just a teenager and marveling that someone could create something like that."
He's equally emphatic about why people should see this production.
"Short answer: Mariah. Her performance is remarkable. She's absolutely incredible in a role that is so unbelievably demanding and relentless, and she meets the challenge, every single song. It's incredible to watch."